Background processing in applications with Scheduler
The scheduler is an easy way to perform background processing in applications. It helps you to create, process and manage your background tasks, i.e. operations you don't want to put in your request processing pipeline.

Scheduler supports all kinds of background tasks – short-running and long-running, CPU intensive and I/O intensive, one shot and recurrent. You don't need to reinvent the wheel – it is ready to use.
Be more efficient and automate your work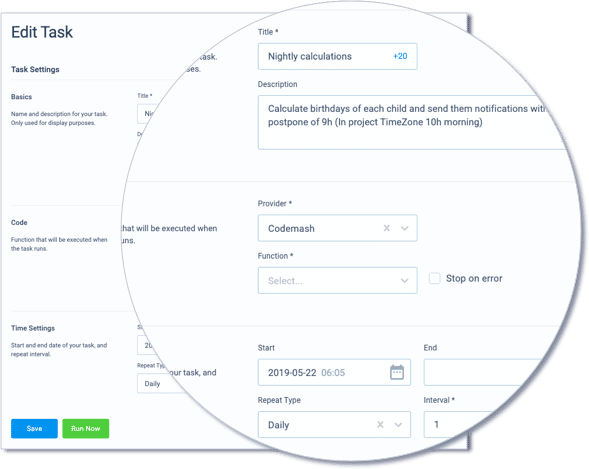 No coding required to setup a new task
Setup task by minute, hourly, days, weeks and months
Setup recurring tasks
Create reminders easily
Choose from 100+ CodeMash functions to run in the background
Track tasks execution and troubleshoot issues upfront
Process and manage your background tasks without any single line of code
Get started with your free 30 days trial.
Never forget customer's birthday
Connect your serverless engine and start using code functions in your apps
Check database on a daily basis
Find customers who are celebrating their birthday
Send prepared notification or email
We have finished many projects which rely on CodeMash. In this e-book, you will get various examples and use cases on how you can leverage our Scheduler service.